PiCoPly 30 x 42
Item Code: 03153042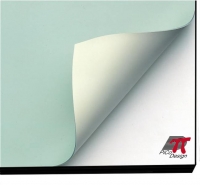 PiCoPly 36 x 48
Item Code: 03153648
PiCoPly 37.5 x 60
Item Code: 03153860
PiCoPly 38" Roll
Item Code: 03151038
PiCoPly 42" Roll
Item Code: 03151042
Durable, versatile, easy-to-install PiCo 5-ply plastic board cover for the cover of drafting tables, drawing boards/work surfaces and other heavily used surfaces. They now feature the traditional green colour on one side, a pleasing grey on the other.
Compass points, tacks and hard pencil impressions will not mark PiCo Ply protected surface, self-sealing surface recovers almost immediately. The perfect, smooth, stain-resistant working surface for all drawing boards, tables and desks and is easy to clean with a damp cloth or sponge. Preserves and protects expensive furniture against mars, scars, cuts, dents, and prolongs the life of new boards. Will not deteriorate, discolor or crack. Ideal as a cover for drawing boards, drawing table tops, reference tables, inspection tables, sorting tables, filing tables, sewing tables, countertops, and shelving.
Tel.(514) 343-5339
Fax (514) 344-1641
1-800-335-7551
Contact us
For architects, engineers, construction and graphic design professionals.